​When it comes to finding the best shipping method for your business, there's a lot of information on the web about various approaches and courier services. To help clear up any information overload this article quickly breaks down some key things to consider when choosing your desired shipping method. By keeping these important issues in mind you'll soon be on your way to developing an efficient shipping process for your business.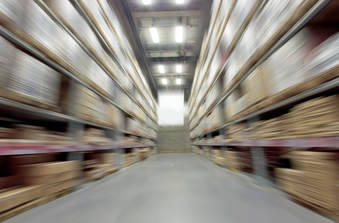 Parcel Service vs LTL
Historically parcel service was intended for the shipment of parcels that were heavier than letter post, yet weigh less than 150 pounds. Today due to changes in how couriers calculate shipment pricing it is possible to still qualify for parcel service for a package that weighs more than 150 pounds, providing that the packaging holds to size requirements. Some carriers use a technique called dimensional weight, or dim weight, to calculate an estimated weight based on the length, width and height of a package. Basically the carriers realized that they were losing money by charging less for large packages that weighed very little (for example, a pillow) and that took up more room in their shipping containers. Although traditionally cheaper than Less Than Truckload (LTL) shipping, parcel service can carry with it some risk of damage or delay. If you are shipping large packages Less Than Truckload shipping is probably a better option for you than parcel service, depending on the dimensions of your product. LTL shipping service is generally geared for shipments that weigh anywhere from 151 to 20,000 pounds, and can be found at many common carriers. Traditionally known as the cheaper option, its important to remember the various ways that dim weight may impact the price of shipping items vis LTL.
National vs Regional Carriers.
FedEx and UPSare the shipping giants currently dominating the courier industry. But depending on your shipping needs it could be a good idea to investigate the options available at regional carriers. Regional carriers serve specified areas in the United States, and are generally smaller and can offer lower costs and higher degrees of flexibility as a result. Because most regional carriers use truck hubs to transfer their packages they avoid expensive airline costs, and pass those savings on to their consumers. In addition, because of their regional status shipments can arrive to their destinations more quickly and you could be charged less for the speed of the service. Their smaller status also means that contracts and pricing regulations can sometimes be easier to understand than those of bigger carriers. However, there are some benefits to using the big carriers. With their larger size they also have greater opportunity for resources and technology, more access to complex routes, and a bigger reach in general. This reach does mean that they can be slower and more expensive than regional carriers because they have bigger delivery area surcharges and higher accessorial costs. However, these revenue thresholds are always negotiable. To decide between these two options you should first consider shipping distance, and then compare the various pricing systems.
Additional Considerations
Another concern when shipping your items could be temperature. Temperature controlled freight shipping is available for goods that are climate sensitive and that require specialized storage to preserve their quality. Keep in mind that it might benefit you to do some research on the climate that your product will be shipped through, and to make necessary adjustments in which service you choose based on temperature. Rules and regulations regarding dry ice can impact the nature of your shipment, and the materials of packaging that you use can also be impacted by industry standards. Finally, you should determine howtime sensitivethe items you are shipping are. Standard package delivery is typically 4 to 14 business days, so if your customer places a high value on quick delivery you can opt to provide next day shipping service, which ensures that you ship your product for it to arrive the following business day.
We hope that these insights have helped you get a better grasp on how to determine the best shipping method for your company.SSI Packaging Group is a team of shipping and packaging specialiststhat are dedicated to serving any and all of your packaging needs. We pride ourselves on providing personalized, flexible and reliable service. Call us at (804) 649-1111 to speak with a representative or view our products to find out more.