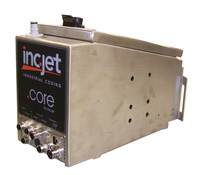 For a limited time, SSI Packaging Group is offering discounts up to 15% when you trade in your OLD inkjet marking system for a new .core inc.jet high definition (high resolution) industrial inkjet marking system.*
With a bulk ink handling system included as an essential part of an integrated head, .core units are the most cost effective way of printing on cases and cartons. And with an ink designed specifically for printing on Kraft Corrugate and other carton materials available, total running costs are minimized at all times.
Features of the .core marking and coding industrial inkjet system
Assembled in the USA
Lifetime Warranty
Rugged industrial design for the toughest commercial environments
Limited downtime to ensure consistent production.
Lowest total operating cost of any inkjet case coder
Learn more about the .core marking and coding system including product images and tech specs.
SSI Packaging Group is proud to be a distributor of inc.jet products in Alabama, Georgia, South Carolina, North Carolina, Virginia, and Maryland. For over 40 years SSI Packaging group has been a leader in industrial marking and coding and packaging supplies. Our marking and coding experts are ready to help you reduce your downtime, costs and maintenance with a new inc.jet marking and coding system. To learn more about all of our inkjet, laser, and labeling marking and coding products visit https://www.ssipkg.com/marking-coding-solutions/.