In business, first impressions count.
That's why manufacturers invest a considerable amount of time and money in developing their products and packaging, and put in place several measures, from adding protective packaging to picking the right carrier, to ensure they arrive intact at their final destination. Shouldn't the packaging tape you use to seal your cartons be held to the same expectation of quality?
Packaging tape is a critical element to producing a secure seal that can withstand the distribution network. Unfortunately, it's not always a top-level concern when viewing the packaging line, but failure to do so can result in case sealing issues such as packaging tape not sticking and loose case seals. The results of which can include production downtime, carton reworks, material waste, heightened labor costs, and higher risk of product damage, contamination and theft in transit.
That's why it's so important to choose the right packaging tape to seal your cartons. When selecting, keep in mind the following characteristics of a good packaging tape:
Easy Unwind: dispense easily to keep things moving efficiently
Good Adhesion: good, quick stick to the corrugated surface
Strength and Durability: resist stress, nicks and abrasion to withstand the rigors of the distribution system
Strong Hold: a good bond with the corrugated surface to ensure it maintains its hold on your cartons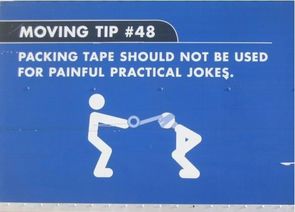 As this image from a the side of a moving truck suggests, packaging tape has it's place and sometimes it doesn't.
Not all packaging tapes are the same, especially when it comes to construction. The biggest difference is adhesive type. The two most common are acrylic and hot melt.
Follow along on this week's blog to learn the difference and best uses for Acrylic packaging tapes and Hot Melt packaging tapes.
SSI Packaging Group has be a leader in packaging, marking, and coding for over 40 years. We don't' try to sell you the cheapest tape because that will just make you frustrated as well as tarnish our reputation. At SSI Packaging Group we will listen to your specific needs and find the best solution for your situation at a value that suits your budget.
Contact one of our packaging tape specialists today to ask questions, schedule a demonstration, or request a quote.
Regional Headquarters –(804) 649-1111.