The Videojet Unicorn® II large character inkjet printer from Videojet Technologies Inc. is a complete, all-inclusive printing system for reliable and cost-effective single or dual line coding on secondary packaging, such as corrugated boxes and cases. FAlsoPre-loaded, selectable languages and printable characters increase flexibility and improve operator efficiencies by making it easy for operators to change the language required for coding and change the language appearing on the interface. The printer is easy to use and maintain and offers standard print heights up to 1 inch (25 mm) and print speeds up to 200 feet per minute.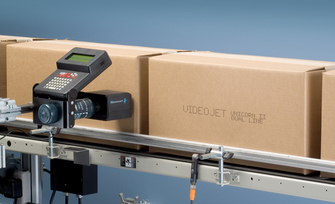 "The Videojet Unicorn II printer not only marks cartons, but also provides production information vital to inventory and quality control," says Tim O'Rourke, Videojet secondary packaging product manager. "Product names, identification numbers, automatic production counts and accurate, to-the-minute time code capabilities are available at the touch of a button. Whatever your coding needs, the Videojet Unicorn printer can be programmed quickly and easily."
SSI Packaging is proud to be a distributor of Videojet marking and coding products. SSI Packaging Group is a national leader in coding, printing and laser marking products, fluids, and accessories for the product identification industry. As experts in continuous inkjet (CIJ), drop-on-demand (DOD), thermal transfer overprinting (TTO), array, and laser technologies, SSI Packaging Group, along with Videojet are leaders in the industry and ready to help you pack and track your image today.