infoAn inc.jet .UNO print solution can help you to replace your troublesome CIJ Printer and here's why…
Zero Maintenance
Because .uno uses thermal inkjet technology from HP, each time you change a cartridge (and that's a 5-second operation), you are replacing your packaging printer's print head – no planned maintenance, no expensive external companies visiting you, no specially trained employees.

No Mess
By using self-contained HP cartagrages, there is no messy cleanup. The high-capacity ink cartridges are long lasting and when they run out, simply pull out the empty one and drop in the new one.
No Small and Lowered VOC's
Forget the days of fumes and chemical smells from inkjet systems. Because .uno uses a closed packaging system, the ink is delivered on demand only. There are no solvents, spills, or makeup. The result is a no-smell inkjet system that is super reliable.
---
Trade-In Sale 10% off
Ready to trade-in headaches for a .uno system? Receive 10% off until May 31, 2018 when you trade in your CIJ printer.
Call (804) 649-1111 Today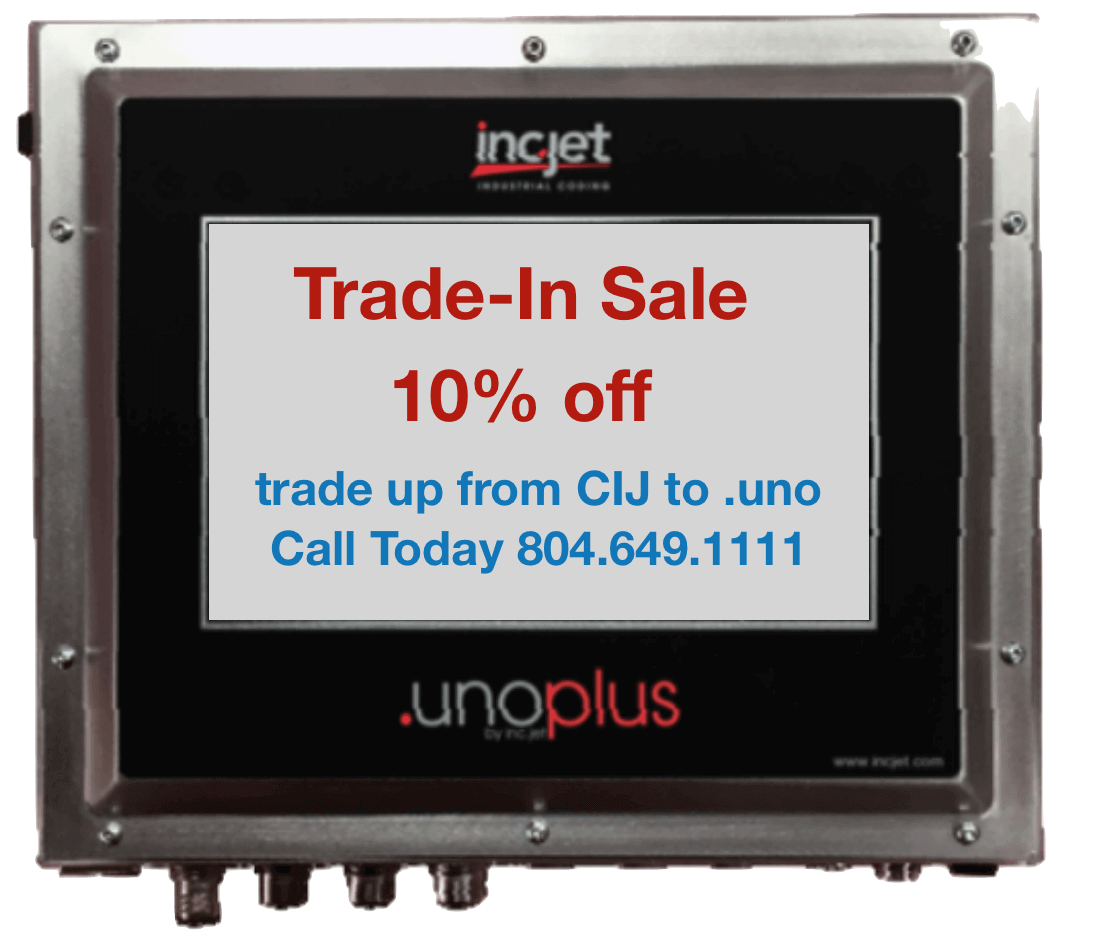 Trade-In Sale – 10% Expires May 31, 2018
---
Higher Reliability
With it's simple design comes a great by-product…higher reliability. Get on your business and forget about working if your coding and marking system is working correctly. .uno just works.
Lower Cost
Since there are less parts, nothing to maintain, and limits downtime to a few moments the operating cost for .uno systems are a fraction of traditional CIJ systems.
Simple Operations
The easy to navigate interface will get you the results you want without having to worry about spending hours programming. Enter your required fields and print.
Small Footprint
Space is a huge consideration when considering marking and coding systems. Production lines have limited space for bulky inkjet systems. .uno systems need an extremely small footprint for the printhead and interface, preventing the need to redesign an entire production line.
BONUS – A True Lifetime Warranty
A guarantee of reliability is what your business needs today. And a company to stand behind its words. inc.jet does just this by offering a genuine Lifetime Warranty on its hardware. If there is ever a problem, we will replace it free of charges for the lifetime of that product, whether 1 year or 20 years from now
---
---
To take advantage of this limited-time offer, call one of the experts at SSI today. Our goal is to make sure you have the best solution for your particular setting. SSI Packaging Group stands behind our products and our work. We only install marking and coding solutions that we trust based on our long-time experience in the market. Call us today at (804) 649-1111