SSI Packaging Group has joined with Sealed Air to celebrate National Bubble Wrap Day, 2019! That's right, today is the day you can be free and pop all of those little bubbles 1 by 1 and not annoy your co-workers. Well, ok, maybe not. Plus, with the great products from Sealed Air, you may not even be able to pop them at all. Bubble Wrap has improved throughout the years. Product protection is serious business, especially when you're product needs to be delivered safely to your customers. SSI Packaging Group has all kinds of Product Packaging solutions utilizing Bubble Wrap and other various packaging materials. The product packaging solutions by Sealed Air and SSI Packaging group help you save money and protect your products.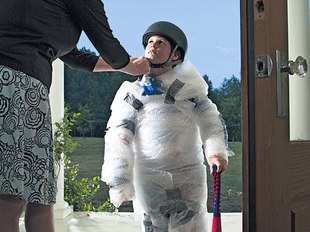 Learn More about SSI's Bubble Wrap packaging solutions.
Have some fun with Bubble Wrap® at http://bubblewrapfun.com
Check out this DudePerfect Video Promo for National Bubble Wrap Day (TBA)
Bubble Wrap® Appreciation Day, first celebrated in 2001, is recognized on the last Monday in January each year. In recent years, Bubble Wrap® Appreciation Day has reached new heights, from setting the Guinness World Record for "the most people popping Bubble Wrap® at one time," to unveiling the Bubble Wrap® Appreciation Day Hall of Fame and inducting first-ever Bubble Wrap® Appreciation Day Hall of Famer Eric Buss and his Bubble Wrap® Bike.
This iconic packaging material, invented in Hawthorne, New Jersey back in 1957, has become a cultural icon celebrated by millions around the globe. The originally intended use for Bubble Wrap® was entirely different than how it is used today. Inventors Marc Chavannes and Al Fielding originally developed a plastic they hoped to market as textured wallpaper. When that idea did not take off, the inventors began to have some success marketing the product as a greenhouse insulator.
Chavannes then realized that Bubble Wrap® brand cushioning could be used as an improvement from paper and old newspapers for cushioning fragile items. Once the opportunity was identified, the inventors worked hard on the manufacturing process or Bubble Wrap® cushioning in an effort to create an ideal packaging material. After a lot of tinkering, they developed a special, proprietary barrier protection which prevented air from leaking and resulted in the crisp "Pop" that Bubble Wrap® brand is famous for.
SSI Packaging Group has provided Bubble Wrap® to small and large businesses throughout RIC. We have Bubble Wrap® in stock today for pickup or delivery. Just give us a call at (804) 649-1111 to order your gigantic roll of bubble fun! (or a truck load for your warehouse operations). Our shipping and packaging experts