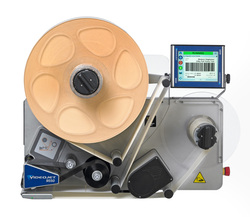 SSI Packaging Group is proud to announce that one of our preferred vendors, Videojet, has released the 9550 Print & Apply Labeling System for secondary packaging. The 9550 is design to eliminate mechanical adjustments, wear parts and failure points in everyday operations. Using the Intelligent Motion™ technology, the system is automatically and precisely controlled.
The unique features of the 9550 include: direct application of labels without an applicator, proven TTO print engine technology, single web path for labels & ribbons, single interface, and Intelligent Motion™ for precise and automatic control of the system.
(See specs of the Videojet 9550 here)
SSI Packaging is a provider of coding, marking and traceability for over 40 years.
Call today to discuss your application- (804) 649-1111.